The modern technology that goes into DJ mixers these days is a far cry from my original Made 2 Fade two channel mixer. This piece of crap was so prehistoric that it didn't even feature any EQs, but I guess that didn't matter as my mixing in those days sounded like someone throwing a piano down a flight of stairs!
How times have changed though. The mixers on the market today feature sampling, effects, BPM counters, even sync buttons now (booooooo!). The manufacturers have taken the hard work away, but so what, modern technology is there to make life easier. Nobody ever tried to fly to the moon on a Penny Farthing!
Here's our favorite three mixers on the market today –
Pioneer Nexus DJM-2000
This is about as good as it gets folks! I think it's safe to say that the people at Pioneer must have sat down at a meeting and decided to make a mixer that will keep EVERYONE happy. Six LAN connections means that four turntables and two laptops can be plugged in at the same time, opening up a whole world of new possibilities. Mostly people fighting to get onto the decks! You can sample tracks on the fly and there's a seven band touch screen EQ. Unfortunately this will also cost you well over $2000, so if you want this in your life you'll have to be prepared to pay! Check out the video below to see what this bad boy can do though, a really special piece of equipment.
Allen & Heath Xone:22
Forget about the knobs and whistles of the Nexus for a second and let's see what you actually NEED. The Allen & Heath Xone:22 is perfect for beginners or battle hardened veterans who are looking for something functional and affordable. Coming in at just $300, this two channel mixer with three band EQ is perfect for those who want to let their music do the talking, not their knob twiddling!
Pioneer DJM-600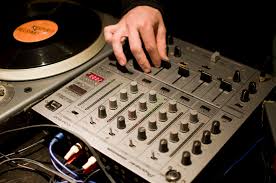 We aren't sponsored by Pioneer by the way, we just really like their DJ mixers! This trusty mixer can be found in most bars and clubs across the globe and for good reason. It's not too expensive, offers great sound quality from the 4 channels and has a great selection of simple to use effects. This may be industry standard, but there's nothing wrong with that. If it's not broken, don't fix it. You really can't go wrong with a DJM-600.
Sometimes two channels can be better than ten, but that's just the opinion of a crusty old DJ who still thinks you can smell the New York air when you open up a 12 inch import! You can have as many buttons and channels as you like, but if you don't know what you're doing then you are going to look a bit silly. That's where we come in.
At Garnish Music Production School we offer simple DJ courses in how to master every area of DJing, even how to mix vinyl. I know, crazy isn't it? If you want some guidance on how to DJ on all formats, drop us a line to find out how our professional tutors can show you how to take your mixing to the next level.